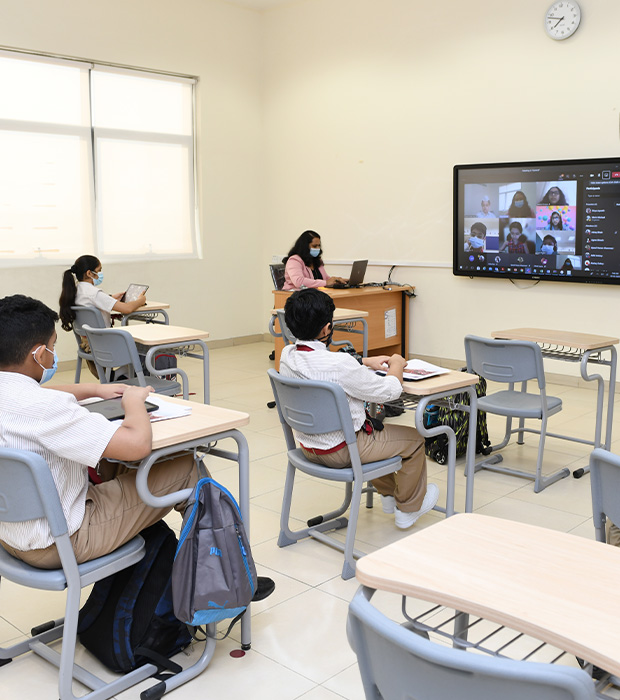 Smart Restart - September 2020
Welcome back to NMS!
We are delighted to confirm that we will be offering 100% on-site education to all year groups. In line with a recent KHDA directive, apart from the blended learning provision, School will also offer remote learning on all five days for those students who are unable to attend the onsite learning. Time table will include parallel sessions for onsite learning and online learning. We do understand that some parents would prefer to keep their children at home for a little longer, and we will fully support these families with a 100% Distance Learning programme. We will ensure their curriculum is in-line with that of the children in school. Whatever option you choose, all will have the same learning commitment every day and are offered exactly at the same rate.
Ms. Fatima Martin on
Smart Restart
School Readiness Plans ensure that the procedures are in place to safeguard the continuity of operations and the safety of everyone in the school. It is important to note that your children's safety is our primary concern and we are fully committed to support their health, wellbeing and continued academic development during this important time. Our reopening plans have been verified by both the KHDA and GEMS and they are mainly focused on the below aspects.
Student Safety
Will ensure the safety of our children across all the phases. We will be following all Health and Safety regulations without exception.
Student Wellbeing
The GEMS Health and Safety department has established a robust set of health, safety and operational procedures and protocols, in order to support the safe reopening of schools. Quality assurance checks will be conducted to monitor the effectiveness. We want the students to be happy to be back at school, excited to see their friends and at all times feel safe and to assure that NMS is doing everything they can, to keep them safe.
Outstanding Education
NMS will never compromise on the education of the child whether they are opting for Remote/ Onsite or Blended Learning. NMS willensure academic provision through Distance Learning for all the students who are unable to attend their classes physically (due to health condition, isolation, quarantine, family situations, etc.)
Here's how GEMS Education is ensuring the safety of your child
Back to School Plans for each Grade