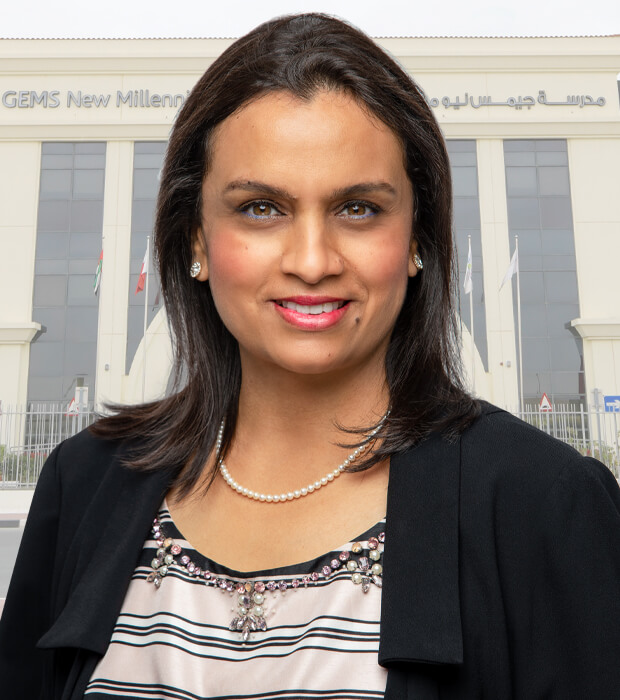 Welcome Message
Ms Fatima Martin
Change my environment, Activate my potential. The tagline holds true for any student who enrolls at GEMS New Millennium School, an institution that prides itself in providing holistic education, superior facilities and varied opportunities.
I am delighted to welcome you to the website of GEMS New Millennium School and give you a quick glimpse into the salient features of this wonderful institution.
We are passionate to nurture students who are empathetic, curious, articulate and driven by inquiry. This is the hallmark of our enriched and innovative curriculum, which is Exponential, Empowering and Experiential.
From the 'Good' rating in 2015-2016 by the Dubai School Inspection Bureau (DSIB) in our very first inspection, to now being rated as a 'Very Good School' in 2023, the journey of the school has transformed into a multifaceted learning space.
Our students come from over 30+ different countries and internationalism prevails in the ethos of our school. All the cultures and identities of our students is promoted through the enriched curriculum with a dual pathway in the senior school. We offer both the CBSE and the IGCSE/A Level, starting Grade 9 or Year 10 respectively. For more information on the dual pathway programme, visit the curriculum tab on our website.
Since its inception in April 2013, NMS is recognized as a leading school in the region, with the below achievements:
Offers an enriched and innovative curriculum, leading up to a choice between CBSE and IGCSE in high school
Rated 'Very Good' in the 2019 and 2023 DSIB inspections
Microsoft Showcase School
Won the Most Innovative School Award at the 2019 GEMS Global Innovation Challenge
A day-boarding school with 30 different afterschool activities to choose without any additional costs
A comprehensive career guidance programme starting Grade 8, including tie-ups with top universities, career fairs, preparation for competitive examinations
NMS is a registered SAT centre and an IELTS centre
We know that we are educating the next-generation of leaders, and so we ensure we provide an inspiring learning environment that moulds students to become innovative thinkers and enterprising global citizens. The vision of GEMS New Millennium School is centered around the key word 'Next-Generation' aspiring every day for our students, whom we call 'Edupreneurs' to become competent and confident individuals.
Our parents witness the resounding benefits of the school's all-inclusive program through valuable student outcomes, including the skills of integrity, confidence and competence. Our families and staff have built successful partnerships that are focused on trust and transparency.
Do come and visit us on any day of the week 8 am to 3 pm or visit our social media Facebook, Instagram or Twitter.
We look forward to your partnership with our School and a rewarding learning journey for all our students.
Dual Curriculum at NMS

NMS Rated 'Very Good'

IGCSE at NMS