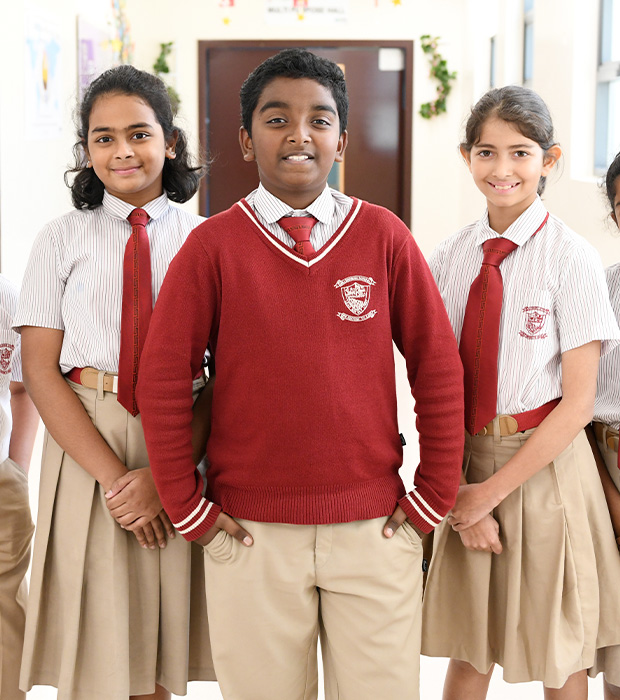 The NMS Difference
Welcome to NMS - a school where a culture of learning is evident among all members of the community.
In keeping with the vision and philosophy of the school, powerful learning opportunities are provided to 'Generation Next'. Design thinking, use of Thinking Routines, project-based multidisciplinary learning, development of critical thinking skills are regular features to equip students with skills to be future ready in this ever changing world. NMS has emerged as a nerve-center of best pedagogical practices with innovative use of learning technology.
The school offers an enriched CBSE curriculum which promotes the UAE National Agenda through mechanisms for bench-marking with international standards.
NMS aspires to embed innovation in the DNA of its learners. Genius Hour tasks include projects for critical thinking, problem solving, reflection and communication. STEAM-focused learning, entrepreneurial education, design-based innovation, Global Futures Curriculum, Global Innovation Challenge, Project Zero Creating Community of Innovation are some of the effective innovative strategies embedded in the curriculum.
A proud host of over 19 nationalities, NMS celebrates international-mindedness and diversity.
With an emphasis on developing the whole child, New Millennium School offers an array of after-school specialist activities ranging from sports, performing arts, creative arts and public speaking, all integrated into the school curriculum, at no extra cost.
The curriculum offered at NMS nurtures young people who are technologically literate, self-sufficient, entrepreneurial and academically prepared global citizens.
Offers an enriched and innovative curriculum, leading up to a choice between CBSE and IGCSE in high school

Rated 'Very Good' in the 2019 DSIB inspections

Microsoft Showcase School

Won the Most Innovative School Award at the 2019 GEMS Global Innovation Challenge

A day-boarding school with 30 different afterschool activities to choose without any additional costs

A comprehensive career guidance programme starting Grade 8, including tie-ups with top universities, career fairs, preparation for competitive examinations

NMS is a registered SAT centre and an IELTS centre
International Environment
Proud host of over 19 nationalities which includes students, teachers and administration staff, adding greater diversity to the quality of education and specialized curriculum.


IGCSE
The International General Certificate of Secondary Education prepares students for life and designs programmes that stretch, challenge and inspire students of all abilities.


Extended Day Programme (PACT)
Our extended day programme (PACT) available at no extra cost, enables students to engage in a variety of structured activities that will challenge, stimulate and educate them.