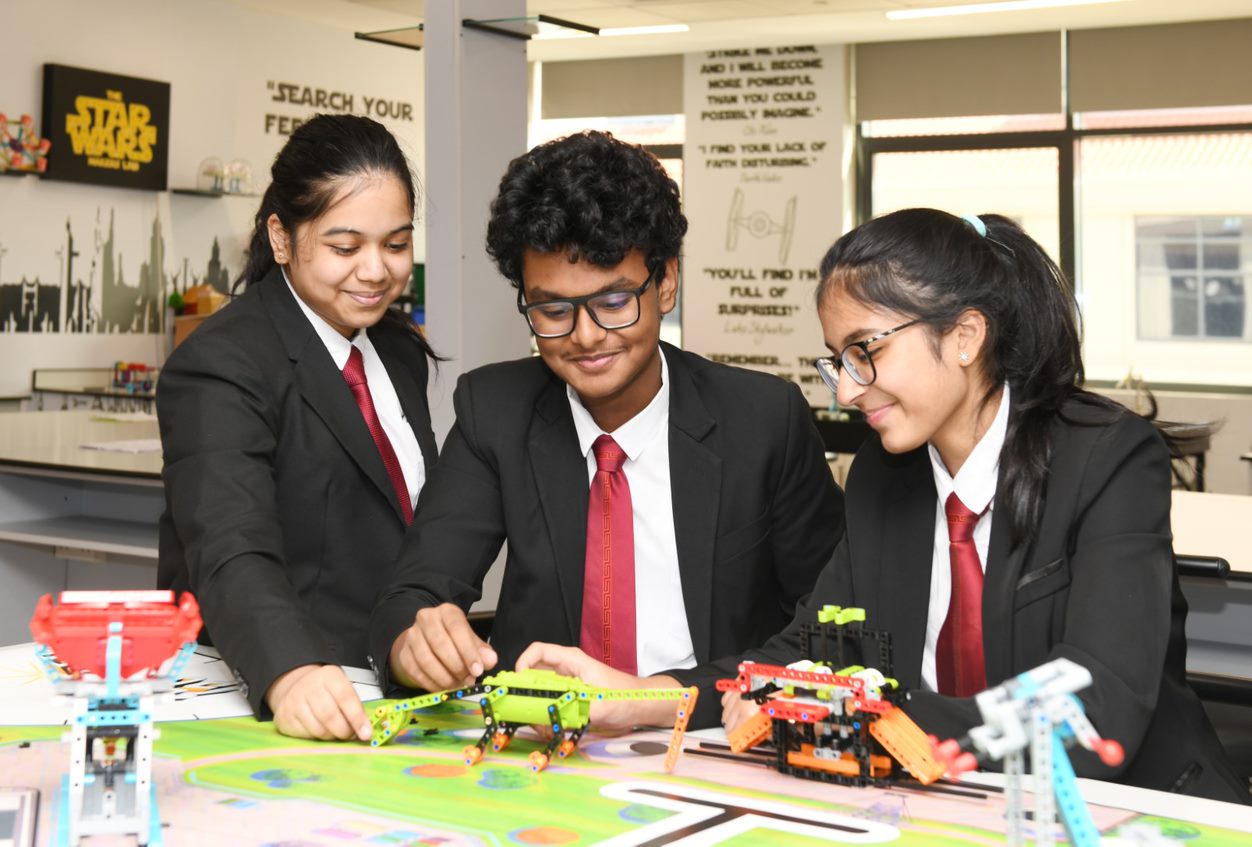 Curriculum Overview
GEMS New Millennium School offers the Early Years Foundation Stage (National Curriculum for England) in the Kindergarten.
In Grades 1 to 8 an enriched CBSE curriculum is offered. The enriched curriculum promotes development of skills, which underpins the content. The breadth and depth of learning is brought into sharp focus, offering challenge and fulfilment in equal measure. Most subjects are aligned to international curriculum standards and UAE regulations.
The curriculum at the Secondary phase allows for a dual pathway at the end of Grade 8.
All India Secondary Schools Examination (at the end of Grade 10) and the All India Senior School Certificate Examination (at the end of Grade 12) conducted by the Central Board of Secondary Education (CBSE), New Delhi, India
Or
for the International General Certificate of Secondary Education (IGCSE) from Cambridge Assessment International Education (CAIE) in Year 10 and 11 and subsequently for the AS and A level in Years 12 and 13.
Kindergarten

Early Years Foundation Stage

(National Curriculum for England)

Grades 1 - 8

Grades 1 to 8: Enriched curriculum leading to CBSE and CAIE(IGCSE) pathways.

Most subjects are aligned to international curriculum standards and UAE regulations. This allows easy transition for students who opt for the CBSE or the IGCSE programme after Grade 8.

Students opting for CBSE continue Grade 9, starting April.

Students opting for IGCSE, start their course from September.

Students transitioning to IGCSE from CBSE, after Grade 8, continue CBSE from April to June.

Starting September, they will move to the IGCSE stream on school records and KHDA records.

Grades 9 - 12

CBSE curriculum with subject options available from Grade 11.

Years 10 and 11 (NCE CAIE)

2-year IGCSE programme.

The equivalence in age and curriculum will enable transition from Grade 8 CBSE to Year 10 NCE/CAIE directly.

Year 12 and Year 13

2-year A Level Programme
Offers an enriched and innovative curriculum, leading up to a choice between CBSE and IGCSE in high school
Rated 'Very Good' in the 2019 DSIB inspections
Microsoft Showcase School
Won the Most Innovative School Award at the 2019 GEMS Global Innovation Challenge
A day-boarding school with 30 different afterschool activities to choose without any additional costs
A comprehensive career guidance programme starting Grade 8, including tie-ups with top universities, career fairs, preparation for competitive examinations
NMS is a registered SAT centre and an IELTS centre

Day Boarding: Programme for Appreciation and Cultivation of Talents

The extended day programme (PACT) at NMS available at no extra cost, enables students to engage in a variety of structured activities that challenge, stimulate and educate them. PACT is an integral part of the curriculum at NMS. Students are provided an array of activities to enable them to develop the skills of the 21st century – communication, collaboration, critical thinking and creativity. Students engage in events and activities that will challenge, stimulate and educate them with great deal of fun. The 30 or more clubs include Indian Classical Music (Kathak, Hindustani Vocal and Tabla), Orchestra, Chess, Animation, CISCO, Gavel's Club (School level Toastmasters), Judo, Guitar, violin and keyboard along with the various other specialist programmes.

The 5 pillars of PACT are – Prep (Homework time), Remedial, Sports, Visual Arts and Performing Arts.

Kindergarten (Pre –K, KG1 and KG2)

Age: 3 -5 years

The Kindergarten curriculum framework has been creatively planned and developed after an in depth study and mapping done with the Early Years Foundation Stage framework (EYFS).

The seven areas of development for Early Years are addressed with pedagogical support of Montessori philosophy.

As an integral part of the New Millennium curriculum, emphasis in these early years is placed on the child's development, guided by the expectations of the seven areas of learning:

Personal, Social and Emotional Development
Communications and Language
Mathematics
English
EVS (Science and Coding)
Creative Development (Music, Art, Theatre and Dance)
Physical Development (Physical Education, Swimming, Aerobics, Karate, Yoga , Tennis)

Each student's individual needs and identities are nurtured and supported for individual growth. The Kindergarten curriculum is designed to develop independence while encouraging students to pursue knowledge and become lifelong learners. The school provides a safe and nurturing environment so that the necessary transition from home to school is easy and comfortable. The faculty comprises of qualified, experienced and talented teachers who stimulate the curiosity, creativity and critical thinking skills of the students.

Students engage in hands-on, experiential learning, including field visits, morning assemblies, theme-based learning weeks and community outreach activities. Extended learning takes place through subject centres in the classroom, learning zones and free flow areas, which stimulate learners through a range of resources and child initiated activities.

The dynamic and progressive English curriculum echoes a strong focus on shoring up skills such as listening, reading, writing and speaking while broadening scope through best practices from other curricula.

Some of the key features of the English Curriculum:

Big Write (Strategy to enhance students' writing skills)
Use of assessment focuses to track reading
SPAG (spelling, punctuation & grammar)
Peer Assisted Learning (PALS)
Banded reading library resources

Student engagement in activities such as the Model United Nations (MUN), World Scholar's Cup (WSC) Global Round, Leadership Summits, the NMS Literacy Week and Spelling Bee has helped enrich their English learning experience.

Based on the CASE methodology, our Science Curriculum features strategies such as Consider All Possibilities (CAP), Plus-Minus-Interesting (PMI), Odd One Out that form the nucleus of the teaching and learning approach.

Every unit engages students in Scientific Writing, with a view to enhance scientific literacy, and scientific investigations. This is directly linked to the TIMSS target, in line with the UAE National Agenda. Students express themselves confidently in debates, discussions and presentations.

Students have every opportunity to develop probing and problem solving skills aided by thematic and functional contexts. Our Mathematics Curriculum has been carefully put together to meet the targets outlined in the UAE National Agenda.

Students can choose from French, Hindi and Malayalam as their second language. For those who join as beginners to the English language in Grades 1 and above, there is ample learning support available through the ELL program.

The Arabic programme of study has been augmented using the GEMS Arabic Framework and the MoE guidelines and IBT Arabic objectives, to realign the provision for better age appropriate transaction. Arabic is taught at different levels in each grade, based on years of study and learning ability of students. Due to this we can demonstrate increased levels of progress and raised attainment particularly to students new to learning Arabic.

The curriculum at NMS continues to evolve organically and innovatively to achieve the school's educational aims and the UAE vision 2021. It is coherent and relevant and fully prepares students for lifelong learning. A multitude of opportunities for enterprise, innovation, creativity and social contributions are embedded throughout the NMS curriculum.