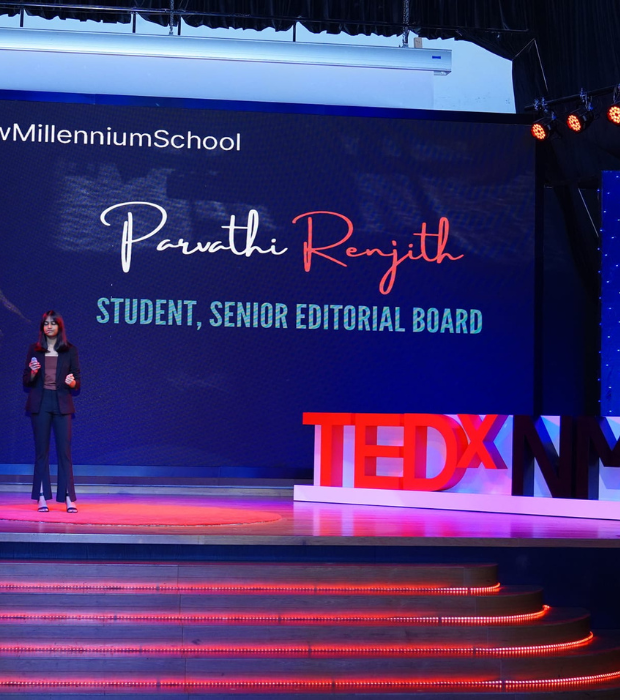 TEDx Inspiring Minds Shaping Futures
Since its inception in 2019, TEDxGEMSNewMillenniumSchool has become the most anticipated event of the senior school. Every year, it brings together distinguished speakers from diverse backgrounds who share their personal stories, insights, and life lessons that leave the audience enlightened, empathetic, and inspired to evolve.
The event has seen many notable speakers, including RJ Malavika Varadan and Jouhayna Almheiri, the first Emirati female air traffic controller. They courageously reveal their imperfections, making their talks authentic and relatable to the audience.
TEDxGEMSNewMillenniumSchool provides a platform for individuals to share their unique perspectives and experiences, which in turn shape the minds and futures of attendees. The power-packed life-lessons and anecdotes inspire students to become the best version of themselves, think outside the box, and challenge themselves to do better.
The event has also become a catalyst for personal growth and development for students, as it encourages them to broaden their horizons, be more accepting and empathetic towards others, and push themselves beyond their limits.
TEDxGEMSNewMillenniumSchool is not just an event; it is an experience that shapes minds and futures. It's a platform that provides the spark of inspiration that can ignite a lifelong passion for learning, growth, and personal development.